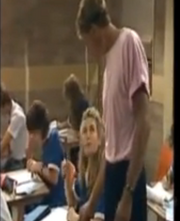 Scott McPhee
threatens to call the police on his parents
Floss McPhee
and
Neville McPhee
if they dont leave. Floss and Nev say if he does all his neighbours will know who they are and why they are here, especially after a neighbour asks who they are and if Scott knows they are here in which Floss pretended to be a foreign fortune teller.
Donald Fisher
calls
Bobby Simpson
into the deputys office after she answers a question to an exam by saying a "Load of old bull". The police arrive at Scott McPhee's house. Floss and Nev says they are his parents and that if they embarrassed him enough he would talk to them. Floss and Nev want to see their grandson. Neville says he will remove the tent. The police says it is not the tent but a report of domestic abuse, filed by a child.
Ben McPhee
says he did it as he thought his dad was hitting him. Scott denies it. Scott says he left it up to his housekeeper to employ unknown people to care for Ben when he and his wife were overseas. The police tell Floss and Neville they have no legal right to access over their grandson. Scott says he does not want his parents to see Ben again. Floss reluctantly agrees.
Main cast
Guest cast
Writer Alison Nisselle
Series Producer John Holmes
Exce Producer Alan Bateman