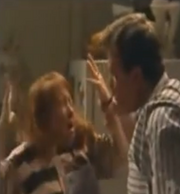 Pippa Fletcher
apologises to
Steven Matheson
saying she did not realise the candles on the birthday cake bought back bad memories.
Sam Barlow
finds out that
Sandra Barlow
has been seeing Steven behind his back, as
Kerry Barlow
is interrogated by him, and Sandra is not around now. Sam loses his temper, thinking Sandra is with Stephen. He menaces Kerry to tell him the truth. Sandra comes home to see the kitchen smashed up and runs to
Ailsa Hogan
for help. Ailsa keeps Sandra company and when Sam and Kerry return from the hospital, Ailsa says she took Sandra to go and see Romeo And Juliet at the theatre, hiding the fact Sandra was with Steven. Sam falls for the lie.
Martin Dibble
asks Ailsa to lend him some money but she refuses. He wants to buy 4 new tyres for his truck.
Main cast
Guest cast
Writer Dave Worthington
Series producer John Holmes
Exec producer Alan Bateman
Ad blocker interference detected!
Wikia is a free-to-use site that makes money from advertising. We have a modified experience for viewers using ad blockers

Wikia is not accessible if you've made further modifications. Remove the custom ad blocker rule(s) and the page will load as expected.