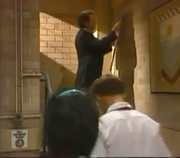 News spreads that the dance has been cancelled due to The Summer Bay Nutter threatening to cause trouble if the dance goes ahead.
Bobby Simpson
gets a detention for answering
Donald Fisher
back at school.
Celia Stewart
sees Barnett fishing on the beach and says she left a message on his answer machine. They arrange ther date. He gives her 2 fish to cook for dinner that night. Celia leaves. Bobby moans to
Carly Morris
about how Fisher gets up her nose all the time.
Tom Fletcher
says they will have the dance at
Summer Bay House
. He does not want to pander to the whims of the Nutter. Bobby, Carly and
Frank Morgan
are pleased.
Sandra Barlow
plans to sneak off to the dance, and also is expecting 
Steven Matheson
to sneak round the Barlow house later on and throws her suspicious father
Sam Barlow off
the scent when he suspects something is bothering her. She says it is just homework.
Lance Smart
is disturbed at night by a man hanging around the caravan with a torch. Steven calls round the Barlow household. Tom and Pippa are chatting about the dance when Barnett pulls up in his police car saying the Nutter has left them another message and it is very important.
Main cast
Guest cast
Writer Dave Worthington
Series producer John Holmes
Exec producer Alan Bateman
First appearance of Andrew Foley.
Ad blocker interference detected!
Wikia is a free-to-use site that makes money from advertising. We have a modified experience for viewers using ad blockers

Wikia is not accessible if you've made further modifications. Remove the custom ad blocker rule(s) and the page will load as expected.