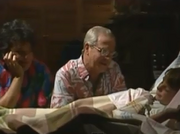 Floss McPhee
and
Neville McPhee
take their grandson
Ben McPhee
to the beach. Ben says he wants to be fostered by his grandparents.
Steven Matheson
notices marks on 
Sandra Barlow
's back and is worried. He asks her if her dad
Sam Barlow
did it. She relucantly says yes. She says he can be a good man at times but is unpredictable. At
Summer Bay High School
they almost kiss but the bell goes for class just before they kiss.
Main cast
Guest cast
Writer Neil Luxmoore
Series producer John Holmes
Exec producer Alan Bateman