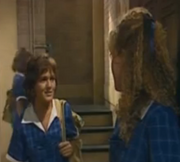 Bobby Simpson
gets ready for her first day back at
Summer Bay High School
.
Donald Fisher
tells
Ailsa Stewart
everyone thinks he is a villain of the piece. Ailsa says she does not think he is one. Those two clowns
Martin Dibble
and
Lance Smart
start winding up Bobby and
Carly Morris
. Bobby attacks Martin and gets her uniform ripped. She worries Fisher will dismiss her again.
Roo Stewart
, the daughter of
Alf Stewart
starts school again and and calls Fisher "Uncle Donald". Roo explains to Bobby and Carly that Fisher is married to her dads sister
Barbara Fisher
.
Sally Keating
is left crying by
Ben McPhee
and is comforted by Bobby.
Tom Fletcher
and
Pippa Fletcher
discuss their finances. Lance and Martin irritate Bobby and Carly again so they take revenge, Carly releases the handbrake of their truck and it rolls down the hill outside the school. As
Walter Bertram
is reversing out of the school entrance, the car speeds towards him and he looks on in horror as does Martin, Lance, Carly and Bobby.
Main cast
Guest cast
Bratt - Uncredited (May be Justin Rosniak)
Writer Greg Haddrick
Producer John Holmes
Executive producer Alan Bateman
First appearance of Roo Stewart played by Justine Clarke. Justine left the role in 1989 and Roo returned 21 years later in 2010 played by Georgie Parker.
Ad blocker interference detected!
Wikia is a free-to-use site that makes money from advertising. We have a modified experience for viewers using ad blockers

Wikia is not accessible if you've made further modifications. Remove the custom ad blocker rule(s) and the page will load as expected.