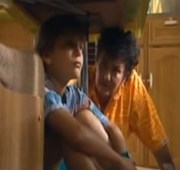 Ben McPhee
runs off when
Neville McPhee
and
Floss McPhee
tell him they are his grandparents. Floos later explains this to him and she has always wondered what he looks like and how he is.
Steven Matheson
is growing increasingly concerned about
Sandra Barlow
's safety. He also wonders if
Sam Barlow
killed
Eric
the dog and
Nico Pappas
cow. Steven asks Sandra if he can borrow photos of her dad to show Nico as Nico reckons he got a glimpse of the man who tampered with his bike and killed his cow. Sandra is furious and tells Steven to go away or she will tell Sam what he has said about him. Steven takes his camera and goes to Barlow's house and gets a photo of Sam Barlow.
Main cast
Guest cast
Writer Tony Sheldon
Series producer John Holmes
Exec producer Alan Bateman
Ad blocker interference detected!
Wikia is a free-to-use site that makes money from advertising. We have a modified experience for viewers using ad blockers

Wikia is not accessible if you've made further modifications. Remove the custom ad blocker rule(s) and the page will load as expected.