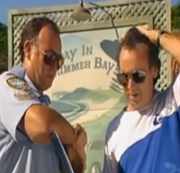 Floss McPhee
brings her grandson
Ben McPhee
to
Summer Bay
, still not revealing her true identity and parading as Mrs Neville, even saying her husband 
Neville McPhee
is called Neville. Ben is curious as to why he is called Neville Neville. Neville says Floss is heading for a big heartbreak if she becomes attached to him then reveals her true identity.
Sam Barlow
is angry because he has been sacked and vows revenge on
Tom Fletcher
. Tom is offered Sam's old job. Sam also plans revenge on
Lance Smart
and
Martin Dibble
.
Sandra Barlow
confides in
Ailsa Hogan
that her father is getting more abusive to her and her mother 
Kerry Barlow
. Ailsa suggests she goes to
Bob Barnett
. Ben looks through some photographs and wonders why "Mr And Mrs Neville" have photos of his dad
Scott McPhee
as a young man.
Main cast
Guest cast
Writer Bevan Lee
Series producer John Holmes
Exec producer Alan Bateman
Ad blocker interference detected!
Wikia is a free-to-use site that makes money from advertising. We have a modified experience for viewers using ad blockers

Wikia is not accessible if you've made further modifications. Remove the custom ad blocker rule(s) and the page will load as expected.