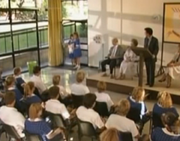 Tom Fletcher
has a bleeding lip after the fight with
Sam Barlow
.
Donald Fisher
says he needs to raise awareness on the dangers of hitchiking and says to
Carly Morris
that he will mention what happend to her in assemby but will make sure she does not attend to save her humiliation. Later on Carly calls
Celia Stewart
a gossipy old crone.
Steven Matheson
raises his concerns to Tom and
Pippa Fletcher
that Sam Barlow is physically abusing his daughter
Sandra Barlow
. At assembly Carly bravely attends and stands on the stage and gives a speech on her hitchiking experience and what happened to her.
Main cast
Guest cast
Writer -
Series Producer - John Holmes
Exec Producer - Alan Bateman
Ad blocker interference detected!
Wikia is a free-to-use site that makes money from advertising. We have a modified experience for viewers using ad blockers

Wikia is not accessible if you've made further modifications. Remove the custom ad blocker rule(s) and the page will load as expected.