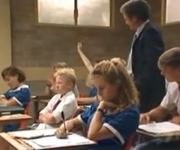 Carly Morris
is very distant with everyone and
Steven Matheson
and
Frank Morgan
are worried for her. Also
Sally Fletcher
is worried. At
Summer Bay High School
Carly is very distant in the classroom. She is called into the office by vice principal
Donald Fisher
. She had drawn a disturbing drawing in class.
Alison Patterson
taunts her about her guilt over causing the accident which injured the headmaster
Walter Bertram
. Don is stunned when Bertram comes back to say he will be resuming work next week, and is also peeved when Bertram gives him a few orders such as announce it over the tannoy. Don does so and everyone in his class cheers and thumps the tables in glee. Donald wants to be headmaster and writes a letter saying he will resign if he is not given the promotion.
Main cast
Guest cast
Writer - Alister Webb
Series Producer - John Holmes
Exec Producer - Alan Bateman