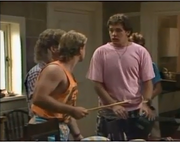 Tom Fletcher
and several others get the community hall ready for the gala tonight.
Lance Smart
and
Martin Dibble
keep practising for the band. Later on it is the Variety Night.
Roo Stewart
leaves
Summer Bay
. Martin names the band "Summer Bay City Rollers" a nod to the famous
Les McKeown
pop group Bay City Rollers.
Main cast
Guest cast
Writer - Greg Stevens
Series Producer - John Holmes
Exec Producer - Alan Bateman