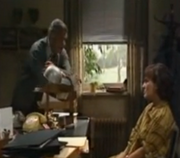 Carly Morris
is rescued by
Lance Smart
and
Martin Dibble
from being drowned while swimming in the sea near the beach.
Floss McPhee
later finds out and thinks that her tarot card readings are right and they can predict things. Her husband
Neville McPhee
tells her to stop all this nonsense.
Bobby Simpson
grovels to
Walter Bertram
about being reinstated at
Summer Bay High School
. He agrees. In
Hogan's Store
Bobby tells 
Donald Fisher
and he is horrified. He confronts Bertram about it but he says as he is the principal he can reinstate her if he wants as he believes she has changed. Bobby tells Floss she believes she can change and excel in life. She also says Floss is an old windbag at times but deep down she is OK, after Floss asks her to repeat what she said.
Main cast
Guest cast
Writer Greg Haddrick
Producer John Holmes
Executive producer Alan Bateman
Ad blocker interference detected!
Wikia is a free-to-use site that makes money from advertising. We have a modified experience for viewers using ad blockers

Wikia is not accessible if you've made further modifications. Remove the custom ad blocker rule(s) and the page will load as expected.