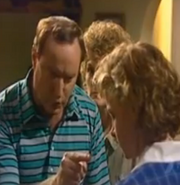 Ailsa Hogan
is worried about the hate mail message. She considers leaving
Summer Bay
.
Alf Stewart
accuses
Roo Stewart
of being the culprit after one of her magazines is cut to ribbons. Ailsa tells Alf not to just assume Roo sent her the hate mail. Roo admits that she sent the hate mail and then mouths off and Alf says he will be sending her to boarding school. The news about the fire at the community hall has spread like wildfire all over Summer Bay.
Steven Matheson
chats up
Sandra Barlow
at school.
Carly Morris
and
Lynn Davenport
reckon she fancies him. Roo then accuses Alf of sending her to boarding school so he can be out of the way so he can move Ailsa in. Alf says he was thinking of changing his mind but Roo has blown it after what she just said.
Main cast
Guest cast
Writer
Producer John Holmes
Executive producer Alan Bateman
Ad blocker interference detected!
Wikia is a free-to-use site that makes money from advertising. We have a modified experience for viewers using ad blockers

Wikia is not accessible if you've made further modifications. Remove the custom ad blocker rule(s) and the page will load as expected.