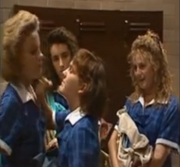 Bobby Simpson
threatens to dish out some more justice on
Roo Stewart
. The other girls watch and laugh.
Floss McPhee
parades as "Mrs Neville" so she can get a housekeeping job at her sons place while they are away. A lady is looking after
Ben McPhee
. His carer is fooled.
Lance Smart
and
Martin Dibble
pester
Ailsa Hogan
in the shop, saying they want an autograph as they have never met a murderer before. Roo asks Ailsa if she has a knife sharpener, Ailsa sells her it and cries.
Main cast
Guest cast
Writer - Greg Millin
Series Producer - John Holmes
Exec Producer - Alan Bateman