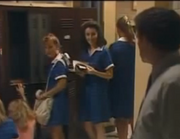 Ailsa Hogan
finds out that
Bobby Simpson
found the card addressed to her from
Donald Fisher
in 
Roo Stewart
's locker. Bobby and Roo have a huge fight outside and during the scuffle, Roo drops Ailsa's card. Local school bitch
Alison Patterson
picks it up. She cheekily says "Ailsa My Darling" to Fisher in the corridor. He wants whoever said it to own up or they will all get detention. Bobby finds out Alison has the card and when they are alone in the corridor, she grabs her, demanding the whereabouts of the card. Ailsa tells
Alf Stewart
about Roo taking the card and he is furious.
Main cast
Guest cast
Writer -
Series Producer - John Holmes
Exec Producer - Alan Bateman
First appearance of Alison Patterson. Alison was a major supporting character for the next year, involved in many storylines.
Ad blocker interference detected!
Wikia is a free-to-use site that makes money from advertising. We have a modified experience for viewers using ad blockers

Wikia is not accessible if you've made further modifications. Remove the custom ad blocker rule(s) and the page will load as expected.