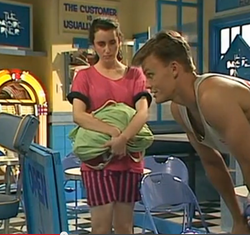 Everyone in
Summer Bay
is giving
Alison Patterson
the brush off. She walks into the diner and tries to talk to
Matt Wilson
.
Ailsa Stewart
calls her an undesirable. Alison then leaves the diner. She gets fed up with the town and decides to leave the Bay for good, she feels it is time to move on and she heads for
the city
. No doubt everyone in the town will be relieved. Someone types a letter about "Your baby may be born deformed". It is addressed to
Alf Stewart
.
Main Cast
Guest Cast
Final appearance of Alison Patterson. Since leaving the role, actress Kathryn Ridley has given up acting to work for the NSW government. Her character Alison was mentioned in 2000 as working for a radio station in Sydney.