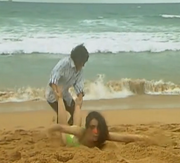 Alison Patterson
spreads gossip that
Carly Morris
is a junkie.
Bobby Simpson
takes her revenge on her. Alison is sunbathing and Bobby grabs her by the feet, drags her to the water and confronts her.
Ad blocker interference detected!
Wikia is a free-to-use site that makes money from advertising. We have a modified experience for viewers using ad blockers

Wikia is not accessible if you've made further modifications. Remove the custom ad blocker rule(s) and the page will load as expected.