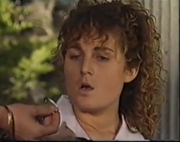 Roo Stewart is on the phone to David. Carly Morris is shocked when she finds out that Sally Fletcher found an earring. She has to hide her shock in front of Bobby Simpson as she worries that she may be a suspect in Gary Samuels killing. Tom Fletcher gives Frank Morgan advice on his engagement to Bobby. He worries that frank is rushing into things. Donald Fisher is worried about Bobby getting married to Frank and how it can affect her exams. A copper drops by the store and is investingating the death of Samuels. He is D.I. John Truman. Carly has mood swings as she is worried she may get done for the killing of Samuels. Pippa Fletcher says they have to go to the police, as it is best Carly says what she knows before the police work it out.
Main cast
Guest cast
Writer -
Series Producer - John Holmes
Exec Producer - Alan Bateman
This episode was the last episode where Alan Bateman was the executive producer. He left Home And Away to take up a new position at Channel 9. His successor was Des Monaghan, whose first episode was the following episode.