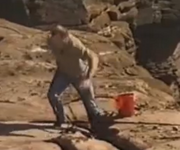 Donald Fisher
says he is dealing with the petition to get rid of
Jeff Samuels
. 
Gary Samuels
intimidates 
Carly Morris
into dropping the petition. The net is closing in on Gary Samuels and everyone rallies to bring him down. They confront him but he says it is all hearsay. 
Stacey Macklin
sees Donald Fisher about Gary. Gary goes for a wlak by the cliffs and then someone approaches him. He asks what they are doing here. All of 
Summer Bay
knows what Gary is like.
Alf Stewart
gets a shock in store when he is fishing. He hears a scream and sees Gary fall off a cliff. He rushes for help.
Main cast
Guest cast
Writer -
Series Producer -
Exec Producer -
Ad blocker interference detected!
Wikia is a free-to-use site that makes money from advertising. We have a modified experience for viewers using ad blockers

Wikia is not accessible if you've made further modifications. Remove the custom ad blocker rule(s) and the page will load as expected.