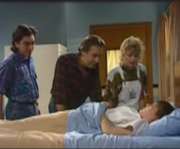 Bobby Simpson
is in hospital suffering from amnesia. There has been a break in at
The Macklin Group
's
Summer Bay
office.
Celia Stewart
is unusually quiet and standoffish. Her engagement ring to her dead fiancee 
Les Palmer
has been stolen. She says it has been 17 years since he was killed.
Stacey Macklin
suspects that
Gary Samuels
has something to do with the break in.
Philip Matheson
wants to have a word with Gary Samuels. He says one day Gary will overstep the mark and that he is onto him. Gary phones
Brad
and confronts him saying that no one gets hurt during their robberies. Flowers are sent to Bobby in hospital with an apologetic note.
Tom Fletcher
says
Bob Barnett
will want to see this. Celia gets her engagement ring back.
Main cast
Guest cast
Writer - Ray Harding
Series Producer - John Holmes
Exec Producer - Alan Bateman
Ad blocker interference detected!
Wikia is a free-to-use site that makes money from advertising. We have a modified experience for viewers using ad blockers

Wikia is not accessible if you've made further modifications. Remove the custom ad blocker rule(s) and the page will load as expected.