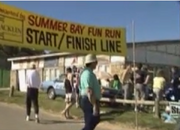 Summer Bay
gets ready for the fun run.
Bobby Simpson
hurts her ankle so is unable to participate.
Jeff Samuels
says to
Steven Matheson
that
Craig Barnett
will excel at the race whereas Stevo wont.
Gary Samuels
has organised a robbery at the shop and
Philip Matheson
's flat. And also a robbery on the office of
The Macklin Group
. The two robbers then target
Summer Bay House
. They throw Bobby off the sofa and leave her on the floor unconscious. Craig nears the end but collapses in pain due to his bad knee.
Celia Stewart
reckons Jeff should tell
Bob Barnett
about the pills but Jeff says no. Jeff has to say to Phil that Craig may have taken pills. As Phil goes to call an ambulance, Jeff persuades Craig not to tell anyone that he gave them to him. Craig agrees. The Fletchers come home to find the TV missing and no sign of Bobby. Bobby is seen by Ailsa and seems to have memory loss when Ailsa calls her name and Bobby says "Who is Bobby?"
Main cast
Guest cast
Writer -
Series Producer - John Holmes
Exec Producer - Alan Bateman
Ad blocker interference detected!
Wikia is a free-to-use site that makes money from advertising. We have a modified experience for viewers using ad blockers

Wikia is not accessible if you've made further modifications. Remove the custom ad blocker rule(s) and the page will load as expected.