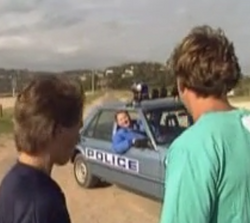 Celia Stewart
congratulates
Philip Matheson
on being the new doctor in
Summer Bay
.
Stacey Macklin
wants
Bob Barnett
to keep a lookout on
Gary Samuels
as she knows he is bad news.
Craig Barnett
is almost caught with the pills
Jeff Samuels
gave him. Celia catches him with them but Jeff covers for him saying he has no idea where they came from. Jeff is angry at Craig, saying Celia is the eyes and ears of
Summer Bay
. He tells him not to give up the fun run. He gives him 2 tablets for the race.
Lance Smart
and
Martin Dibble
plan a night in the city. Stacey Macklin wines and dines Phil as part of their plan to bring Gary Samuels down. Lance and Martin chase girls in the nightclub but are unsuccessful. Phil and Stacey go back to his place and they start snogging.
Main cast
Guest cast
Writer -
Series Producer - John Holmes
Exec Producer - Alan Bateman
Ad blocker interference detected!
Wikia is a free-to-use site that makes money from advertising. We have a modified experience for viewers using ad blockers

Wikia is not accessible if you've made further modifications. Remove the custom ad blocker rule(s) and the page will load as expected.