Steven Matheson
thinks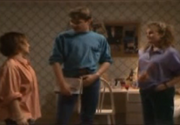 there is something between
Philip Matheson
and
Stacey Macklin
.
Gary Samuels
gives
Carly Morris
home tuition.
Jeff Samuels
takes Stacey out for a meal. Gary and Carly are kissing but
Sally Fletcher
knocks on the door and they have to pretend he is teaching her. Sally suggests to Samuels that he teaches her. Carly is annoyed at Sally for interfering. After the dinner, Stacey comes to see Phil as she found he has a physio appointment at the hospital tomorrow. He thinks she is trying to sweet talk him as her brother
Brett Macklin
caused Phil's injury. He asks her for a drink but she says no. Bobby accuses Tom of taking Frank's job at
The Macklin Group
.
Main cast
Guest cast
Writer - Anthony Ellis
Series Producer - John Holmes
Exec Producer - Alan Bateman
Ad blocker interference detected!
Wikia is a free-to-use site that makes money from advertising. We have a modified experience for viewers using ad blockers

Wikia is not accessible if you've made further modifications. Remove the custom ad blocker rule(s) and the page will load as expected.