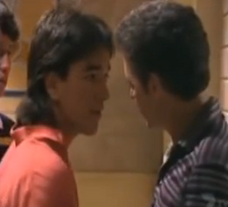 Donald Fisher
is left soaked after being splashed. Yet again
Frank Morgan
clashes with Fisher at
Summer Bay High School
. A punch up almost ensues but 
Steven Matheson
restrains Frank.
Floss McPhee
does another tarot card reading and can predict a death. She worried that
Bobby Simpson
will cause the death of one of the Fletchers. The Fletchers hand out pamphlets all over
Summer Bay
. Floss asks Neville for $5 to try and keep Sally here after Bobby offers to take her up town. Neville reluctantly agrees. He is a bit sick of Floss' tarot card reading nonsense, predicting the deaths of residents.
Carly Morris
and
Lynn Davenport
chat up
Matt Wilson
on the beach.
Tom Fletcher
has been out for work for a while now and wants a job. He says to wife
Pippa Fletcher
how he seems to be pottering around waiting for their first customer at the caravan park.
Main cast
Guest cast
Writer Greg Haddrick
Producer John Holmes
Executive producer Alan Bateman
Locations seen
Edit