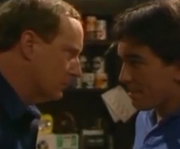 Alf Stewart
is very mad at
Frank Morgan
for leading
Roo Stewart
astray. He thinks Frank is trying it on with Roo. Frank says how strong he feels for her. Alf later softens and realises Frank is keen on her. He warns Frank that if he does mess her about and is not straight with him about what is going on between him and her that he will be one very sorry young fellow.
Neville McPhee
is angry at
Martin Dibble
and
Lance Smart
, thinking they have cut up his bagpipes.
Floss McPhee
tells him to think before he accuses anyone. Alf says to Roo that they are both on probation. While
Tom
and
Pippa Fletcher
are away, Lance and Martin have borrowed some instruments from drums to electric guitars for the band. The band members start practising. The Summer Bay Nutter vandalises
Nico Pappas
's bike.
Main cast
Guest cast
Writer - Bevan Lee
Series Producer - John Holmes
Exec Producer - Alan Bateman