Jeff Samuels
is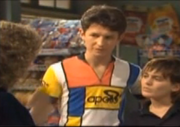 not happy that
Gary Samuels
seems to be a suspect of the rape of
Carly Morris
.
Bobby Simpson
blames Carly herself for being attacked as she took a risk by hitch hiking. Gary meanwhile says he did not attack Carly and tells her to lay off blaming him.
Brett Macklin
comes to apologise to
Philip Matheson
about catching his hand in the door. Phil, thinking there is long term damage, rejects Brett's apology. Jeff Samuels has a sponsorship offer for
Stacey Macklin
but she turns him down. Brett gets Stacey to get Philip to forgive Brett. He says his finger damage could put an end to his career as a surgeon. Stevo tells Gary to keep away from Carly. Gary mouths off and Stevo says he is good at karate. Gary sarcastically says he is terrified and then throws Stevo to the floor, saying in karate there is always soemone better. Stacey says Philip did not want to know about Brett. Stacey finds Brett's shoes by the beach and no sign of Brett.
Main cast
Guest cast
Writer - Alister Webb
Series Producer - John Holmes
Exec Producer - Alan Bateman
Ad blocker interference detected!
Wikia is a free-to-use site that makes money from advertising. We have a modified experience for viewers using ad blockers

Wikia is not accessible if you've made further modifications. Remove the custom ad blocker rule(s) and the page will load as expected.