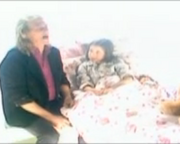 Summer Bay
is getting ready for the visit from
John Farnham
. A gathering is held in
Celia's Store
. They are anxiously awaiting John's arrival. They hear a car pull up ooutside and get ready with their camera. It is only
Bob Barnett
. John is at
Summer Bay House
and sings a song to
Sally Fletcher
. John has to go. He is on a tight schedule. But 
Pippa Fletcher
catches up with him to get him to help
Walter Bertram
. After this, John departs Summer Bay.
Carly Morris
rushes back to Summer Bay House in a panic. She says she has seen the man who attacked her.
Main cast
Guest cast
Writer -
Series Producer - John Holmes
Exec Producer - Alan Bateman
Ad blocker interference detected!
Wikia is a free-to-use site that makes money from advertising. We have a modified experience for viewers using ad blockers

Wikia is not accessible if you've made further modifications. Remove the custom ad blocker rule(s) and the page will load as expected.