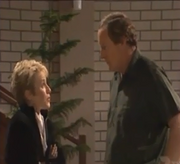 Alf Stewart
is after
Brett Macklin
's blood after
Roo Stewart
told him Brett was blackmailing her.
Stacey Macklin
is dating
Philip Matheson
. Alf talks to Stacey who says Brett is bluffing as the Macklin's have too much invested in
Summer Bay
. Brett kidnaps baby
Martha
from the hospital. He steals money from the safe of the Summer Bay office of
The Macklin Group
. He drives off, is seen by Stacey and Philip who manage to make him skid his car. Brett manages to get away and says to baby Martha they are free now.
Main cast
Guest cast
Writer - Maureen Ann Moran
Series Producer - John Holmes
Exec Producer - Alan Bateman
Ad blocker interference detected!
Wikia is a free-to-use site that makes money from advertising. We have a modified experience for viewers using ad blockers

Wikia is not accessible if you've made further modifications. Remove the custom ad blocker rule(s) and the page will load as expected.