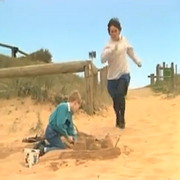 Bobby Simpson
runs off to the beach, knocking a kids sandcastle over, she is in a huff after seeing
Frank Morgan
and
Roo Stewart
hugging.
Alf Stewart
catches
Brett Macklin
with a hangover and his caravan is in a mess. He says Brett will not get custody of
Martha Stewart
. Brett virtually frogmarches Roo to the hospital to feed baby Martha. Bobby somehow believes that nothing is going on between Frank and Roo. Alf apologises to Brett for his tirade earlier. They chat over a coffee. He tries to make out he is going to be a great dad and it wont be easy though. Bobby warns Roo never to try it on with Frank. Roo admits Brett blackmailed her into giving him the baby or his family business, 
The Macklin Group
would pull out of their
Summer Bay
investment. Alf says he will kill Brett and storms out of
the house
.
Main cast
Guest cast
Writer -
Series Producer - John Holmes
Exec Producer - Alan Bateman
Ad blocker interference detected!
Wikia is a free-to-use site that makes money from advertising. We have a modified experience for viewers using ad blockers

Wikia is not accessible if you've made further modifications. Remove the custom ad blocker rule(s) and the page will load as expected.