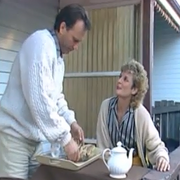 Ailsa Stewart
tells her new boyfriend
Graham Ridge
that she can never forgive
Alf Stewart
for saying she could stab him with a knife when angry.
Brett Macklin
is pleased he is now in custody of
Martha
. He wants his sister
Stacey Macklin
to lend him some money to start afresh away from
Summer Bay
and his father
Gordon Macklin
.
Celia Stewart
is not happy that her niece
Roo Stewart
has given her baby up to Brett. Roo turns up for the exam. Ailsa wants to return to Summer Bay to sign the auction agreement with Celia to sell
Hogan's General Stores
. Ailsa returns and Celia says she wants the shop to be more for older people, and to get rid of the fruit machine. Ailsa signs the agreement.
Main cast
Guest cast
Writer - Anne Brooksbank
Series Producer - John Holmes
Exec Producer - Alan Bateman
Ad blocker interference detected!
Wikia is a free-to-use site that makes money from advertising. We have a modified experience for viewers using ad blockers

Wikia is not accessible if you've made further modifications. Remove the custom ad blocker rule(s) and the page will load as expected.