Bobby Simpson
leaves
Donald Fisher
's office enraged.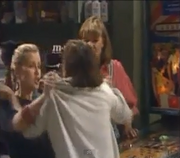 He has given her a zero for cheating but Bobby says to Carly she threw her study notes away and someone found them and planted them under her desk. Bobby thinks it is
Roo Stewart
. She goes for her but
Narelle Smart
stops Bobby. The culprit turns out to be
Carly Morris
. Narelle wines and dines
Philip Matheson
. He rebuffs her, saying he has other arrangements tonight.
Brett Macklin
meets Roo at the hospital. Brett says the fascist female nurse wont let him in without Roo's say so. Roo takes her to see the baby
Martha
. carly confesses to Donald, he agrees to mark Bobby but will fail Carly. He says this time he wont keep a secret for Carly. carly tells Bobby and gets a whack in the eye for her troubles. Tom hears it and turns a blind eye, telling Frank she has had that coming for ages. Phil Matheson seduces Stacey Macklin, hence why he rejected Narelle. Brett vows to get custody of Martha.
Main cast
Guest cast
Writer -
Series Producer - John Holmes
Exec Producer - Alan Bateman
Ad blocker interference detected!
Wikia is a free-to-use site that makes money from advertising. We have a modified experience for viewers using ad blockers

Wikia is not accessible if you've made further modifications. Remove the custom ad blocker rule(s) and the page will load as expected.