Carly Morris
and
Bobby Simpson
get re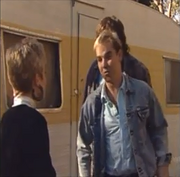 ady for their upcoming exams.
Stacey Macklin
arrives at
Summer Bay caravan park
looking for her brother
Brett Macklin
.
Lance Smart
says he has invested $100'000 into
The Macklin Group
. He tells her Brett is staying at No 15. Stacey says Brett is either in our out of the Macklin Group. She takes some files off him and drives away. The girls all take their exam.
Donald Fisher
says they have 30 minutes to complete the exam. Stacey and
Frank Morgan
make an idiot out of Lance and Martin. A drunken Brett turns up at the hospital looking for his daughter
Martha Stewart
. He is challenged by the same nurse who challenged him the other day, she hears he said he wants to see his daughter. She reminds him he said he was nothing to do with the baby the other day. She threatens to call security and Brett leaves, after calling her a jobsworth. At the school, after the exam, Donald Fisher sees a folded up piece of paper on the floor under where Bobby was sat. He summons her to his office and says he has marked her chemistry paper as zero. The standard mark at this school for cheats.
Main cast
Guest cast
Writer -
Series Producer - John Holmes
Exec Producer - Alan Bateman
Carly Morris jokes that there could be an earthquare in Summer Bay or the school may burn down. This can be classed as foreshadowing the bushfire of 1995 in which the school was burned down, and the 1996 earthquake.