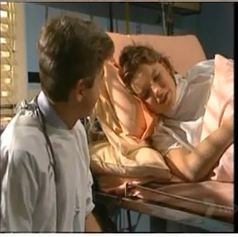 Roo Stewart
is having problems with her pregnancy.
Celia Stewart
says how she remembers when Roo's mother
Martha Stewart
had her baby. She still wants to see
Frank Morgan
. Celia calls Frank at
The Macklin Group
. Frank says he will be there as soon as possible.
Gordon Macklin
is curious to know why Roo wants to see an ex boyfriend but not the father of her unborn baby. Frank arrives, Roo's back is hurting a lot. The doctor gives her more morphine. Bobby sneaks out of class,
Alison Patterson
grasses her up and upon Bobby;s return she is in hot wather with
Donald Fisher
. The doctor says that Roo has given birth to a baby girl. Gordon is not happy, he wanted a boy.
Main cast
Guest cast
Writer -
Series Producer - John Holmes
Exec Producer - Alan Bateman
Ad blocker interference detected!
Wikia is a free-to-use site that makes money from advertising. We have a modified experience for viewers using ad blockers

Wikia is not accessible if you've made further modifications. Remove the custom ad blocker rule(s) and the page will load as expected.