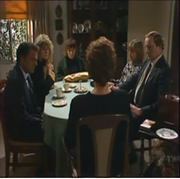 It is
Alan Fisher
's will reading and tensions are running high. He leaves
Bobby Simpson his
old teddy.
Morag Bellingham
says to
Pippa Fletcher
that she saw
Ailsa Stewart
with a man the other day when visiting Alan in hospital.
Colleen Smart
and Morag bump into each other and Morag is not that pleased to he her, Hopeless Hickie, as was her school nickname. Donald plays the tape Alan left for him which asks him to scatter his ashes on the beach.
Barbara Fisher
says she is being transferred back to
Sydney, "The City"
. Barbara packs her belongings. Donald says there has been too much fighting in the family. Donald hears of ALan's book "On The Crest of A Wave". Don goes to the beach and asks a surfer to scatter Alan's ashes and he reads an excerpt from Alan's book.
Main cast
Guest cast
Writer - Jennifer Mellet
Director -
Series Producer - John Holmes
Exec Producer - Alan Bateman
Final appearance of Morag Bellingham until Episode 241 (13 February 1989).