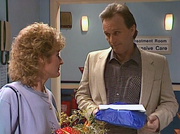 Alf Stewart
almost bumps into
Ailsa Stewart
at the hospital. She is with
Graham Lynch
, her new fella. Alf recognises him in the waiting room and goes to speak to him but hears Ailsa and
Pippa Fletcher
coming round the corner and he quickly runs off. He goes back to
Summer Bay
and punches the cardboard cutout of a man at the bottle shop.
Donald Fisher
refuses to leave the hospital and says he will sleep by his bedside.
Bobby Simpson
sees Don and
Barbara Fisher
walk off down the corridor and she sneaks in to see him. Don comes back and Bobby quickly hides behind some medical equipment. She quietly sneaks out and Don does not see her.
Colleen Smart
sees her asleep on the beach the following day. Bobby is dismissive to her. Ailsa meets Bobby on the beach and says she must break her promise to help Alan die now his aneurysm has ruptured. Alan starts arresting in his hospital bed and later dies.
Main cast
Guest cast
Writer - Bevan Lee
Director - Paul Moloney
Series Producer - John Holmes
Exec Producer - Alan Bateman
Final chronological appearance of Alan Fisher even though he appears in a flashback in Episode 164 (1 September 1988).
Tom Richards makes a pre Murdoch Roberts appearance as Graham Ridge.
Ad blocker interference detected!
Wikia is a free-to-use site that makes money from advertising. We have a modified experience for viewers using ad blockers

Wikia is not accessible if you've made further modifications. Remove the custom ad blocker rule(s) and the page will load as expected.