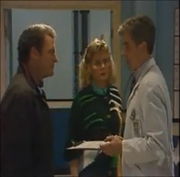 Alan Fisher
is rushed to
hospital
. He is in a coma. 
Donald Fisher
gives his consent for them to operate. A specialist from 
Sydney, "The City"
is coming to operate.
Lance Smart
and
Martin Dibble
run into bad luck again when their stash is gone. Lance is fast blowing that $500'000 lottery money.
Bobby Simpson
has taken it and give it to
Colleen Smart
though. She invests the money in
The Macklin Group
making Lance an investor. Don, Barbara and Bobby wait anxiously for Alan's operation.
Frank Morgan
has to rush to the hospital and leaves
Roo Stewart
talking with Brett Macklin. She is not pleased. The doctor says the operation has finished but he may have severe brain damage. Bobby says she promised he would not end up a zombie for the rest of his life even if it means helping him die.
Main cast
Guest cast
Writer -
Director -
Series Producer - John Holmes
Exec Producer - Alan Bateman
Final appearance of Lynn Davenport.
Ad blocker interference detected!
Wikia is a free-to-use site that makes money from advertising. We have a modified experience for viewers using ad blockers

Wikia is not accessible if you've made further modifications. Remove the custom ad blocker rule(s) and the page will load as expected.