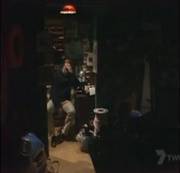 Alan Fisher
is visiting at the hospital to see the baby
Christopher Fletcher
and the patients bring it all back to him, he worries he may be like that when the aneurysm goes.
Alf Stewart
goes back to the bottle shop and sulks. The following day he does not let
Bobby Simpson
know he was waiting nearby when she saw
Ailsa Stewart
in
the city
yesterday.
Donald Fisher
sees his son Alan on the beach and invites him for a coffee. He say that
Brett Macklin
wants to sponsor him. Bobby is not happy and says she will dump him if he accepts the sponsor. Alan collapses on the beach. Don quickly rings for an ambulance.
Main cast
Guest cast
Writer - Bruce Hancock
Director - Paul Moloney
Series Producer - John Holmes
Exec Producer - Alan Bateman
Ad blocker interference detected!
Wikia is a free-to-use site that makes money from advertising. We have a modified experience for viewers using ad blockers

Wikia is not accessible if you've made further modifications. Remove the custom ad blocker rule(s) and the page will load as expected.