Pippa Fletcher
is doing we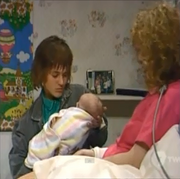 ll after the birth of baby
Christopher Fletcher
.
Steven Matheson
sees
Philip Matheson
kissing
Narelle Smart
.
Bobby Simpson
plans to track down
Ailsa Stewart
in
the city
. Steven soon has to face up to the gossip going around that he has been dumped by Narelle. Bobby tells Alf she will try and get Ailsa back. He gets Narelle to look after
Hogan's General Store
.
Alan Fisher
and Bobby track Ailsa down at the post office she goes to. She is not surprised. She says she if finished with Alf. Alf is waiting nearby in his Land Rover. He follows Ailsa until he sees her seeing another man.
Main cast
Guest cast
Writer - Bruce Hancock
Director - Paul Moloney
Series Producer - John Holmes
Exec Producer - Alan Bateman
Ad blocker interference detected!
Wikia is a free-to-use site that makes money from advertising. We have a modified experience for viewers using ad blockers

Wikia is not accessible if you've made further modifications. Remove the custom ad blocker rule(s) and the page will load as expected.