Pippa Fletcher
is h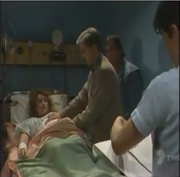 aving contractions.
Tom Fletcher
comforts her.
Lance Smart
and 
Martin Dibble
raise the alarm and wake
Frank Morgan
and
Narelle Smart
up. All the other members of the Fletcher clan wait in the waiting room at the hospital. They discuss baby names, from Fred to Harold. Pippa is rushed in for a C section, which is successful. Baby
Christopher Fletcher
is born.
Main cast
Guest cast
Writer - Craig Wilkins
Director - Paul Moloney
Series Producer - John Holmes
Exec Producer - Alan Bateman
First appearance of Christopher Fletcher.