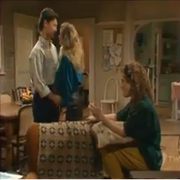 Lance Smart
says he left the money there on purpose so
Martin Dibble
could pay him back. They soon shake hands.
Colleen Smart
prepares to leave
Summer Bay
as she feels Lance is not grateful to have her around. She tries to get
Narelle Smart
to talk some sense into him.
Tom Fletcher
says
Pippa Fletcher
is heavily pregnant and is getting impatient.
Main cast
Guest cast
Writer - Cassandra Carter
Director - Peter Andrikidis
Series Producer - John Holmes
Exec Producer - Alan Bateman
First appearance of Philip Matheson.