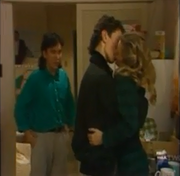 Steven Matheson
and
Narelle Smart
are now a couple despite him being 15 and her being 19.
Ailsa Stewart
is seen driving away from
Summer Bay
.
Bobby Simpson
stops her and asks what is wrong between her and
Alf Stewart
.
Roo Stewart
feels her baby kick.
Frank Morgan
says how he fancied
Andrea Walker
from 2 doors down where they used to live in
Sydney, "The City"
. Steve and Narelle go to a rave and he is mocked by a friend of Narelle called
Revhead
. Ailsa prepares to leave Summer Bay forever. She drives off into the sunset towards the city.
Main cast
Guest cast
Writer - Alison Nisselle
Director - Peter Andrikidis
Series Producer - John Holmes
Exec Producer - Alan Bateman
First appearance of Revhead.
Ad blocker interference detected!
Wikia is a free-to-use site that makes money from advertising. We have a modified experience for viewers using ad blockers

Wikia is not accessible if you've made further modifications. Remove the custom ad blocker rule(s) and the page will load as expected.