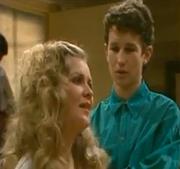 Narelle Smart
says to
Frank Morgan
she is in love with
Steven Matheson
who is just 15. She tries to tell this to him at
Summer Bay High School
but is told to get lost by
Donald Fisher
.
Ailsa Stewart
gets a phonecall from
Rod Barrett
that he wants out of the Macklin investment and does not care about if it is built. Ailsa thinks the Macklins bought him off. She wants Frank to access their files. Donald reckons the new resort would bring in crime and drugs. Brett is confronted by Ailsa but tells her that
Gordon Macklin
wants to open up a supermarket in Summer Bay and it would affect her shop. He says she could be opposing the developments for self interest.
Main cast
Guest cast
Writer - Ray Harding
Director - Mark Piper
Series Producer - John Holmes
Exec Producer - Alan Bateman