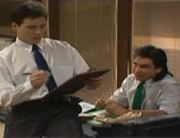 Bobby Simpson
wonders why
Alan Fisher
has gone.
Brett Macklin
wants
Frank Morgan
to invest in a trust fund and for invites to the party. Frank has several others but Brett rejects them. He refers to
Floss McPhee
and
Neville McPhee
as tramps. Brett meets
Roo Stewart
on the beach. She suggests having the party at
Alf Stewart
's. Alf is persuaded by Brett and he agrees. Ailsa is upset at Alf later on. Frank tells Bobby that Brett does not want her there. Bobby says it is no big hassle as she thought it would suck anyway.
Main cast
Guest cast
Writer - Chris McCourt
Director - Graham Barton
Series Producer - John Holmes
Exec Producer - Alan Bateman
Ad blocker interference detected!
Wikia is a free-to-use site that makes money from advertising. We have a modified experience for viewers using ad blockers

Wikia is not accessible if you've made further modifications. Remove the custom ad blocker rule(s) and the page will load as expected.