Alan Fisher
is pleased that his scheme has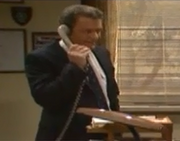 worked. He reports his father
Donald Fisher
to the Department. Donald tries to grovel to them to say it was a father and son matter.
Barbara Fisher
is angry at Donald.
Carly Morris
tells
Bobby Simpson
that Alan has a aneursym. Bobby is shocked.
Peter
the Regional Director turns up to get the full story. He quizzes Alan about baiting Don into hitting him, and feigning a fit. Peter has to suspend Donald pending an inquiry.
Main cast
Guest cast
Writer - Anne Brooksbank
Series Producer - John Holmes
Exec Producer - Alan Bateman
Ad blocker interference detected!
Wikia is a free-to-use site that makes money from advertising. We have a modified experience for viewers using ad blockers

Wikia is not accessible if you've made further modifications. Remove the custom ad blocker rule(s) and the page will load as expected.