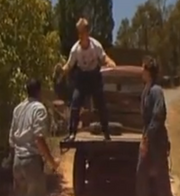 Carly Morris
takes up karate. She is taught by
Steven Matheson
.
Lance Smart
auditions for a part in
Frank Morgan
's band as Frank is looking for a bassplayer and background vocalist. Him and
Martin Dibble
see
Nico Pappas
and taunt him as usual.
Lynn Davenport
confiscates Nico's pills and this starts to make him deluded but she says he can survive without them.
Main cast
Guest cast
Writer - Alister Webb
Series Producer - John Holmes
Exec Producer - Alan Bateman