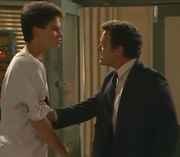 Celia Stewart
gets a package from her parents.
Alf Stewart
is delighted. Their parents say they are staying in
Tahiti
.
Alan Fisher
and his father
Donald Fisher
argue and he almost hits him. Alan comes up with a plan to get his father sacked. Celia has a nightmare about being stripped and eaten by cannibals.
Pippa Fletcher
comes home from hospital. Alan looks at a letter with his dads siganture on it. He mimics his signature D.M. Fisher (
Don has a middle name!!!!
)
Main cast
Guest cast
Writer - Rick Held
Series Producer - John Holmes
Exec Producer - Alan Bateman
Ad blocker interference detected!
Wikia is a free-to-use site that makes money from advertising. We have a modified experience for viewers using ad blockers

Wikia is not accessible if you've made further modifications. Remove the custom ad blocker rule(s) and the page will load as expected.