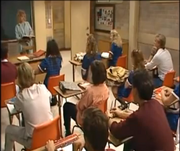 Matt Wilson
gets ready for his departure. He goes for a surf with
Alan Fisher
.
Donald Fisher
wishes that
Barbara Fisher
and Alan had not returned to
Summer Bay
.
Lance Smart
offers a $1000 reward to anyone who can think of a away to get rid of his mother
Colleen Smart
from his house. Matt gives 
Carly Morris
a farewell letter. Barbara and Don have a row in his office and she storms out.
Main cast
Guest cast
Writer - Rick Held
Series Producer - John Holmes
Exec Producer - Alan Bateman
Final appearance of Matt Wilson until Episode 219 (17 November 1988).