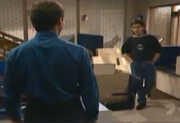 Frank Morgan
asks
Brett Macklin
for a job. Brett gives him a job. Frank considers
Ailsa Stewart
's plan to be a spy.
Colleen Smart
and her husband
Stan Smart
turn up in
Summer Bay
.
Lance Smart
lends his dad Stan $50'000. Brett is already bossing Frank around. He later phones his dad saying their scam is on to con the investors.
Matt Wilson
has been offered a job with his dad in
the city
.
Carly Morris
is upset that she seems to be losing her only friend who cares. Frank tells Brett to stop treating him like a gopher.
Celia Stewart
sess an upset Colleen Smart running into her house. Stan has run off with the money Lance lent him and his fancy woman
Doris
.
Main cast
Guest cast
Writer - Neil Luxmoore
Series Producer - John Holmes
Exec Producer - Alan Bateman
Ad blocker interference detected!
Wikia is a free-to-use site that makes money from advertising. We have a modified experience for viewers using ad blockers

Wikia is not accessible if you've made further modifications. Remove the custom ad blocker rule(s) and the page will load as expected.