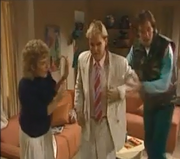 Lance Smart
is ecstatic that he has won $500'000.
Ailsa Stewart
says he should not broadcast it too much as everyone will ask for handouts.
Martin Dibble
then asks him for a loan.
Alf Stewart
says that a new hotel resort may be built in
Summer Bay
and that
Frank Morgan
has been offered a job. He says he does not want one. Lance loses the ticket. They hunt high and low for the ticket.
Roo Stewart
persuades Frank to work for the Macklins. Alf and Ailsa joke about Lance losing the ticket after Alf finds they had lost the ticket. Lance and Martin think they know where the ticket is. As it has been a while since Lance applied, the ticket may be at the house of 
Russell
, the man whose wife they were perving at in the shower block a few months before,
Dawn
. Russell had used the van Lance and Martin live at for a week while they stayed at another van and Russell may have taken the ticket.
Main cast
Guest cast
Writer - Greg Stevens
Series Producer - John Holmes
Exec Producer - Alan Bateman
Ad blocker interference detected!
Wikia is a free-to-use site that makes money from advertising. We have a modified experience for viewers using ad blockers

Wikia is not accessible if you've made further modifications. Remove the custom ad blocker rule(s) and the page will load as expected.