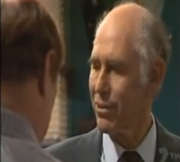 Carly Morris
is highly upset at her photos being passed off as her identical twin sister
Samantha Morris
.
Lance Smart
is pleased he appeared on TV. Carly is taunted by
Bobby Simpson
and in school by other pupils the following day, especially
Alison Patterson
.
Alf Stewart
is introduced to
Gordon Macklin
, the businessman father of
Brett Macklin
. Gordon wants to build a resort in Summer Bay and wants Alf to invest. He is intorduced to
Ailsa Stewart
and when Gordon leaves, Ailsa says she cannot trust Gordon or Brett. Gordon and Brett meet in Brett's car and have big plans.
Main cast
Guest cast
Writer Dave Worthington
Series producer John Holmes
Executive producer Alan Bateman
First appearance of Gordon Macklin.
Ad blocker interference detected!
Wikia is a free-to-use site that makes money from advertising. We have a modified experience for viewers using ad blockers

Wikia is not accessible if you've made further modifications. Remove the custom ad blocker rule(s) and the page will load as expected.