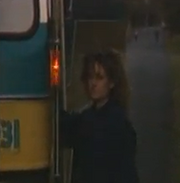 Due to
Pippa Fletcher
being rushed to hospital, the rest of the Fletchers and co do not see the letter until
Sally Fletcher
reads the letter.
Matt Wilson
rushes to tell Sally and
Bobby Simpson
that Carly is leaving for good. For the second time in a week the bus is pibbed and asked to stop as it is driving towards the city. Bobby asks Carly to get off the bus.
Alan Fisher
comes to school in a womans uniform to annoy his father
Donald Fisher
. Carly returns to
Summer Bay House
. She is met by
Tom Fletcher
who has come back from taking Pippa to hospital. Carly cries. Fisher turns the joke back on Alan by providing him with a ladys hat to complete the ladys uniform he is wearing. All his classmates laugh. 3 days later, Carly puts a rope down the bedroom floor of her and Bobby's bedroom telling her to keep her stuff to her half. Carly watches herself on TV and finds that her father has passed off her modelling photos as Samantha to make Samantha look better. Carly says they both wore the same clothes during the shoot yet only Samantha's got on TV. All the other residents of
Summer Bay
watching it on the TV's are laughing, especially
Bobby Simpson
. She is unhappy.
Main cast
Guest cast
Various school pupils (uncredited)
Writer - Dave Worthington
Series Producer - John Holmes
Exec Producer - Alan Bateman
Ad blocker interference detected!
Wikia is a free-to-use site that makes money from advertising. We have a modified experience for viewers using ad blockers

Wikia is not accessible if you've made further modifications. Remove the custom ad blocker rule(s) and the page will load as expected.